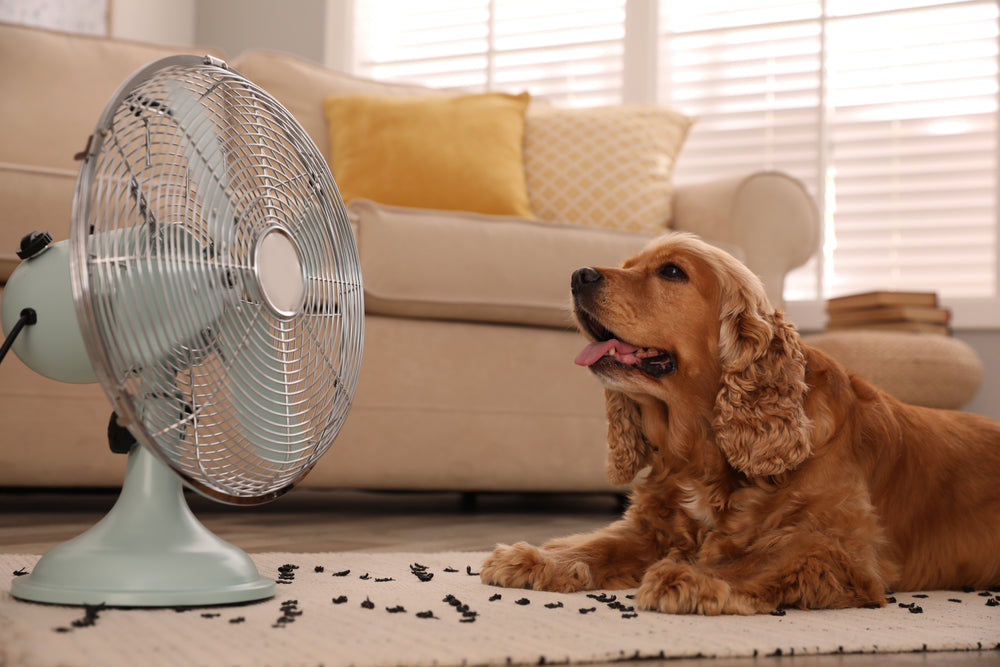 How to Keep a Dog Cool Inside the House
It's summertime! Even if you crank up the fans or have the AC on blast, your pup may still feel the heat. After all, they are wrapped in an adorable fur coat year-round! So, let's keep your dog cool inside the house by cooling down your pet's environment and body.
Help Your Pup Stay Cool in Summer
On extra warm days, think about what you do to cool off and apply the same ideas to your dog. Do you put your hair up? Wear lighter clothing? Remove the heavy blankets from the bed? Snack on chilled treats? Your pet can do similar things too. Read on for five summer-heat-busting ways to keep your dog cool.
1. Keep up on grooming.
Have you given your pet a good brushing recently? This can be helpful for dogs with a thick winter undercoat or long, flowing locks that shed. If needed, grab a de-matting brush and get to work. Or, schedule a visit to the groomer. It might be time for a bath, brush and trim to prepare for the warmer days ahead. After all, nobody likes to wear extra layers when the temperature goes up, up, up!
2. Offer an elevated cot.
Does your pup love his bed? Maybe it's time to swap out that plush resting spot for something cooler that allows airflow around his body during summer. We love the elevated K&H Original Pet Cot with a breathable mesh center. The cover is machine washable, or it can be easily hosed off outside for quick clean-up. This elevated cot comes in four sizes and holds up to 300 pounds, depending on the size. For extra cooling, consider the K&H Coolin' Pet Cot with a refillable chilling center that you fill with icy cold water to keep your pet extra comfy on summer days. This cot option comes in two sizes.
3. Serve up cold treats.
Speaking of icy water, does your pup like ice cubes? Fill a bowl and see! Some doggos love to play, nudge, chomp and lick at them. As a bonus, ice cubes help cool off that hot panting dog tongue. If your pet isn't a fan of ice, you can also try dog ice cream from the grocery store, a pup cup from the coffee shop, or homemade frozen doggie treats.
4. Chill their water.
There's nothing better on a hot summer day than a long drink of cool water. You can ensure your best fur buddy has exactly that by using a K&H Coolin' Bowl. Available in 32- or 96-ounce sizes, this cooling dog bowl doesn't require electricity, so you can use it in your home, in the yard or on the go when you visit the dog park. Before the first use, fill the inner core of the bowl with water and shake to activate the cooling crystals. Once the initial setup is complete, freeze the bowl each night in the freezer. The next morning, simply fill the bowl with fresh water for your pup. The bowl keeps water cold for up to 15 hours during the day.
5. Use a summer bed.
Hey, if we can have heated blankets in the winter, our pets can have cooled beds in the summer! Yes, they exist! Check out the K&H Cool Bed III, a dog cooling mat that naturally wicks heat away from your pet's body to provide cooling comfort. This is great for summer heat spells, pets that pant often and those that need additional orthopedic support. Or, maybe your aging pet would enjoy the K&H Coolin' Comfort Bed. This offers orthopedic support as well as cooling technology. Simply add cool water, and your pet will be cozy and supported on this cooling dog bed.
Keep Your Dog Cool This Summer
Even though your furry loved one is indoors with you where it feels comfortable to you, they may need a little extra help to cool off this summer. Thank goodness you have lots of options. Here's to finding ways to beat the heat and enjoy summertime together!