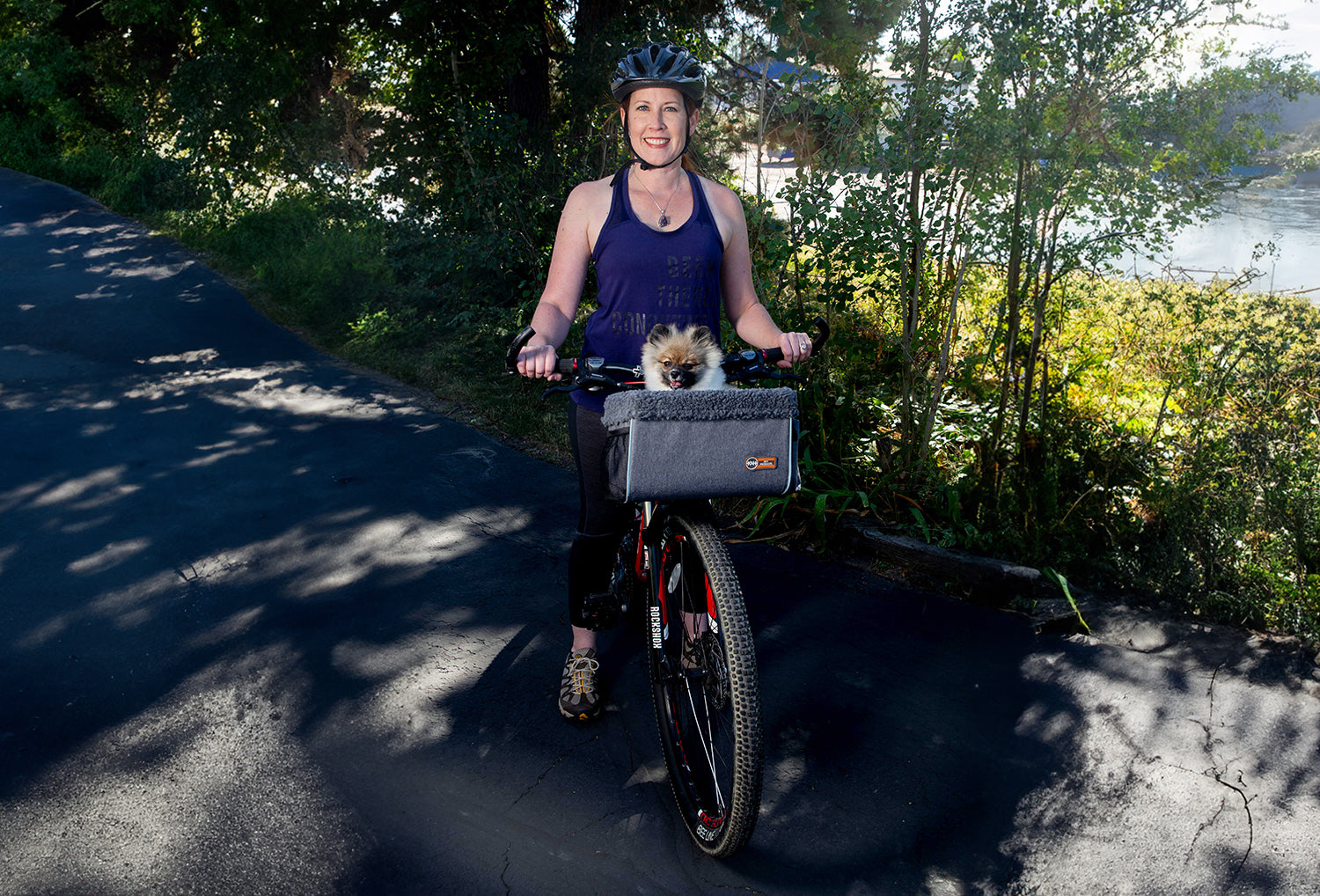 How to ride a bike with a dog
You're craving some time on the local bike path. As you grab your keys and head to the door, your best buddy gives you the look. You know the one. Am I going with you?
Why not learn how to ride a bike with a dog? It's possible with the help of a few biking accessories like a bike dog basket, bike leash, bike trailer or dog training! Here's what you need to know to make your next bike ride a special outing with your pup.
Planning Your Bike Ride with Your Dog
Before you strap on your bike helmet, do a little prep work. You want to learn if your biking location allows dogs, especially if you plan to allow him to run off-leash alongside you. A simple phone call or web search of the location should do the trick.
Then, introduce your dog to the bike at your home. Let him sniff, lick and circle the new-to-him thing. Show him it's OK to touch it. Show him how it moves and what sounds it makes. Let him get familiar with the bike. Use positive reinforcement, like kind words, petting and treats when your dog acts favorably.
If you plan to have your furry buddy run alongside you during the ride, don't forget to give your veterinarian a quick phone call to ask if your pup is healthy enough for this activity, especially if he is on any medications, has an ongoing condition or is recovering from a procedure. Although riding a bike allows for some coasting time for you, it's pretty intense cardio for your dog, so keep that in mind.
Stock Up on Bike Riding Supplies
If your dog is all tail wags around the bike, and your vet is on board, it's time to consider the supplies you need for your bike ride.
Small-sized dogs can join you on your cycling adventures in a K&H Travel Bike Basket that mounts to the front of your bike. It features a removable, washable cover and a handy zipper pocket, and it holds pets up to 20 pounds. You can also attach the K&H Travel Bike Basket Hood to protect your furry BFF from getting too much sun.
If you plan to ride your bike to a special location, then go for a walk or hike, you might consider the K&H Travel Bike Backpack. This option (which measures 9.5" x 14" x 15.75") attaches to the front of your bike and can be easily detached and worn as a backpack with your small pup (up to 15 pounds) tucked inside. (Both the basket and backpack include the front mount; rear mounts can be purchased separately.)
If your pup is larger and won't fit into a bike basket or backpack, consider learning to use a biking leash that attaches directly to your bike. This keeps your hands free to maneuver the bike properly. It may require a few sessions with a dog trainer to master fully, but it's well worth the investment to make this hobby safe and enjoyable for both you and your fur baby.
Another idea is to attach a trailer or cart behind your bike to contain your pet. Or you could use a cargo bike designed specifically for dogs. These are excellent options for large, aging or disabled pets.
Have more than one dog? The cargo option is best. Pile them in and have a ball!
To help your pup get used to any of these accessories, use steps similar to getting her used to your bike. For instance, let her sniff the basket and get in and out of it while it's on the floor (not mounted to your bike). Then, let her sit in the basket while on the bike but don't go anywhere. Then move to short trips (up and down your driveway, the block, etc.) before going out on the road. Again, use lots of treats and praise during each step and make sure your pup is comfortable before moving to the next level.
You can also teach your dog biking-specific voice commands, like stop, slow, faster, onward, left and right. Use these to keep your dog close by and in a safe position adjacent to your bike. She can run alongside you in areas that permit off-leash dog companions and cycling. As always, be mindful of others, their pets and how your dog behaves. Be ready to make verbal corrections and leash your dog if needed to control your pet.
Tips for a Successful Bike Ride
Whichever option you choose, plan a few practice rides before going for your usual treks and distances. After all, this is a new activity for your pup, and they need to get used to it.
If your dog will run alongside you, let him set the pace of the ride. And, if it's above 80°F, it's too warm for your pet to be on concrete. Pair that fur coat with the sun-warmed walkway, and you're asking your dog to go for a really hot run alongside you during your bike ride. Instead, go for a casual playdate at the grass-covered dog park and save bike time for cooler weather.
For all outdoor adventures, plan ample breaks for you and your pup. Each time you need a drink, your pet will enjoy a few laps of water as well, so consider packing a collapsible water bowl. For pets on the ground, peek at their paw pads regularly and make sure they're not raw or cracking. If you plan to bike often, invest in dog booties or paw cream to protect the pads.
Enjoying Bike Riding with Your Dog
If your best fur friend shows interest in your cycling hobby, then make it a date! It can be as easy as strapping on a basket or bike leash and hitting the bike trail together. Simply do a bit of prep, get the green light from your vet and make outdoor memories!
Read more helpful pet parenting tips on the K&H Pet Products blog here.