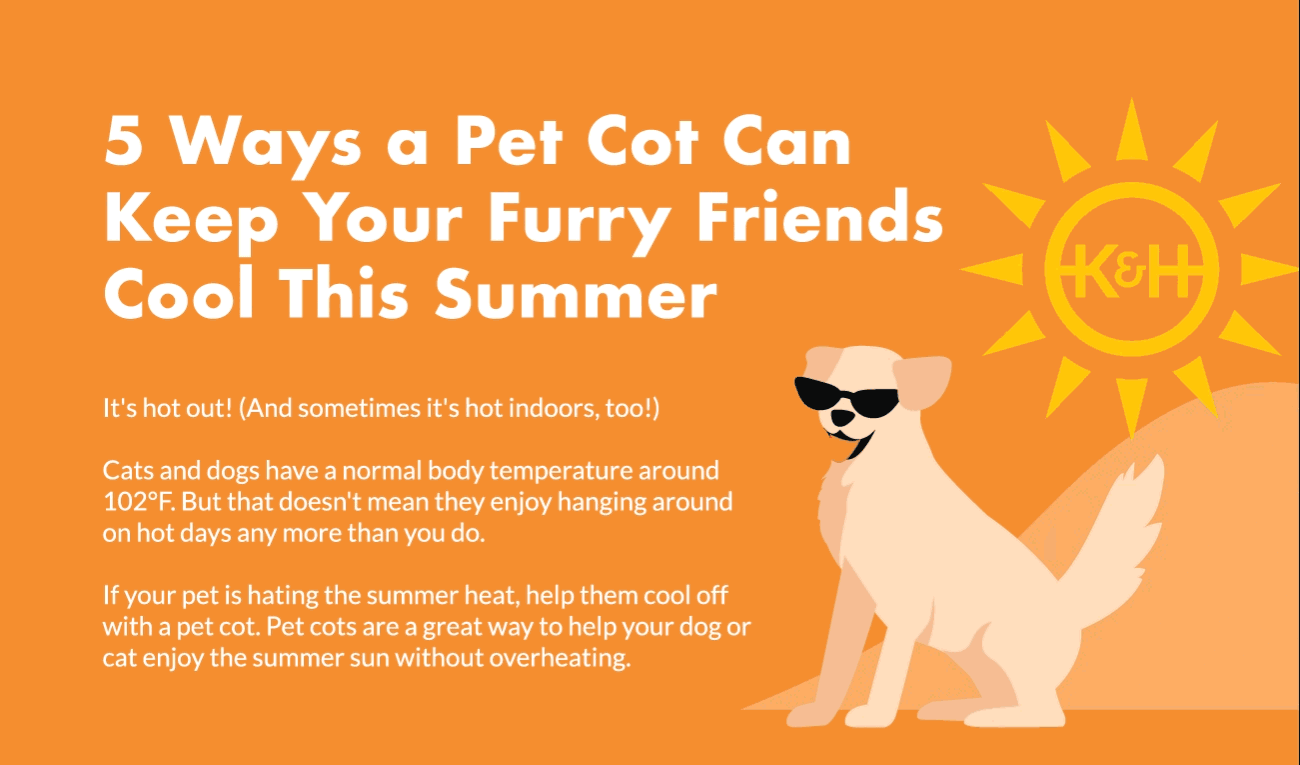 5 Ways A Pet Cot Can Keep Your Furry Friends Cool This Summer (Infographic)
It's hot out! (And sometimes it's hot indoors, too!)
Cats and dogs have a normal body temperature around 102°F. But that doesn't mean they enjoy hanging around on hot days any more than you do.
If your pet is hating the summer heat, help them cool off with a pet cot. Pet cots are a great way to help your dog or cat enjoy the summer sun without overheating.
1. Elevate your furry BFF with a pet cot.
Your pet absorbs heat whether he lays on the floor or in a bed that sits on the floor. This direct contact with the ground makes it more difficult for them to cool off quickly. Pet cots, great for indoor or outdoor use, keep your dog and cat off the ground, which helps circulate air and cool them off more quickly.
2. Choose an elevated cot with a mesh center.
Cots with a mesh center help move the air more quickly around your pet. Bonus if you choose one with no-snag mesh. Your cot will repel water, last a long time and maintain a snag-free appearance for years to come.
Pet cots with cooling tech include a refillable cooling center to bring even more heat relief to your pet. And the K&H Coolin' Pet Cot is the only one with the cooling pad sewn in! The cooling pad absorbs your pet's natural body temperature and lowers it to room temperature, which is well below their normal. It's like giving them a personal oasis in your backyard!
4. Take it with you — it's easy!
All K&H elevated pet cots are lightweight and easy to assemble — unlike other brands that use tools and tiny screws to assemble their cots. And this easy assembly makes them perfect for your adventures. Pack your elevated pet cot along with your camping or picnic gear, and take your pet with you on all your summer outings. (And if your pup takes a romp in a lake or river, the pet cot will help him dry off more quickly.)
Pet cots, like the K&H Pet Cot line, are versatile. Swap out colors, give your pet more warmth in the winter, and even get a canopy to help shield your pet from the summer sun.
Check out the complete line of K&H Pet Cots and accessories.
K&H Pet Products with design is a registered trademark of Central Garden & Pet Company.