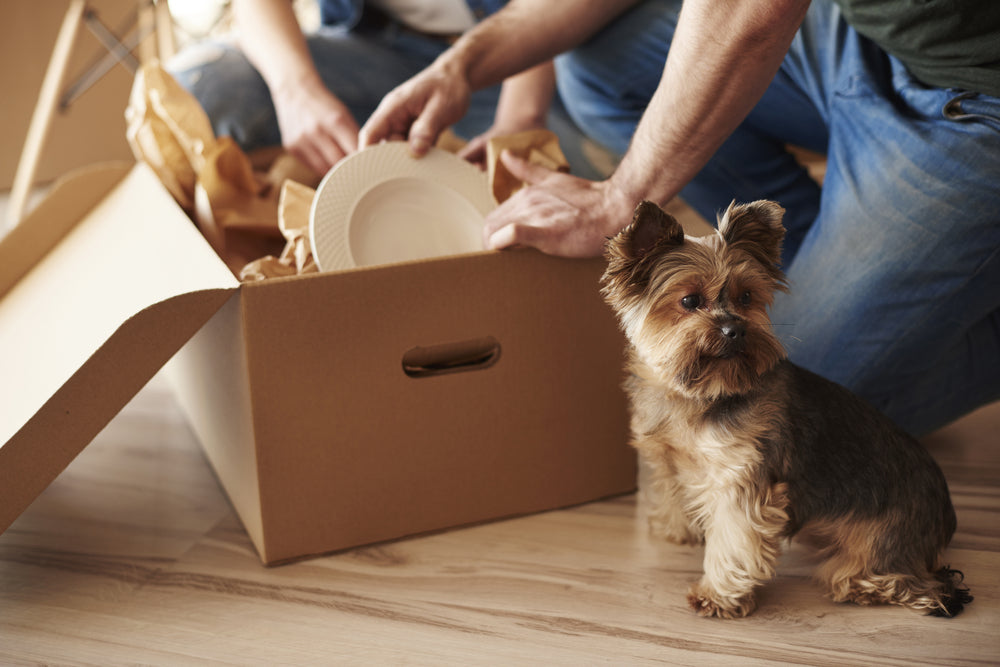 10 Tips for Moving with Dogs Across the Country
It's time! You've decided to wrap up one chapter and start the next — in a new city. As you plan your big move, don't forget this adventure may be a stressful transition for your dog. Whether it's a long car ride or the dog's first time in an airplane, let's make it as comfortable as possible.
When you start packing your belongings and researching how to move dogs across the country, you may wonder what extras you might need for your dog. And what do you need to do before you leave? And is there anything you might need to pack for this trip?
We've got you covered!
1. Contact All Pet Services
As a courtesy, make quick calls to your dog's groomer, pet sitter, boarding facility and any other places they regularly visit. The staff will appreciate hearing about your move and knowing a spot on their roster has opened up for another pet. This communication also gives you a chance to express your gratitude with a thoughtful card or small gift for their assistance and schedule one last appointment if needed.
2. Visit the Veterinarian
In addition to asking for a copy of your files, refills of any medications, and anti-anxiety medicines if you know your pet tends to need them, let your vet know where you're moving to. Some states have specific vaccination requirements. Browse the United States Department of Agriculture's Animal and Plant Health Inspection Service website for details about each state. You can get your dog updated on shots and have the paperwork to prove it before you travel. If you're flying, you may need to present a signed health certificate, an ID chip, and an updated rabies vaccine certificate. Your vet can help with these items too.
3. Explore Potential Airlines
Traveling by plane? Check your preferred airline's requirements for pet travel. Some have restrictions on pet weight, types of travel carriers used, and where the pet will be on the aircraft — in the cabin or the cargo hold. These rules may affect which airline you choose for your move. Check out these links to a few popular carriers and their pet travel guidelines: United Airlines, Delta, Southwest Airlines and American Airlines.
4. Update Microchip Information
Nobody expects their pet to get lost. But it happens. Before you move, get a chip inserted at your veterinarian's office, or if your pup is already chipped, update the file with current cell phone information to reach you while traveling. This can usually be done online or with a call to the chip company. And what about an address? If you don't have a permanent place in your new location yet, add the address of a trusted friend, new workplace or family member. Then update the chip as soon as you put down roots.
5. Research Your New City
Every community has unique laws and regulations regarding pets. Some have breed bans, leash laws, noise ordinances and rules about keeping pets outdoors on tie-outs or in kennels. A quick call to the city hall or search of the city government website for your new community can ensure you follow the rules in your new hometown as soon as you arrive. They can also share where to find the local dog parks. Bonus!
6. Plan for the Long Ride
Whether you're hopping into a plane, train, or automobile, your dog will need a pet travel carrier. A few to consider:
Bucket Booster:

 

This booster-style travel dog bed elevates your small- to medium-sized pet so they can better see out the window in a car, airplane or train while being contained in the rectangular-shaped, fleece-lined seat. The

 

Bucket Booster

 

is collapsible and folds flat for easy transport and storage when not in use.
Buckle n' Go Pet Seat:

 

This pet car seat offers an open-top yet contained way for your pet to travel in a car. The

 

Buckle n' Go Pet Seat

 

works for many sizes of dogs.
Travel Safety Carrier:

 

Choose this option if you need your pet fully encased in a soft-sided pet kennel to meet most travel guidelines. The large

 

Travel Safety Carrier

 

option accommodates up to 40 pounds.
If you're driving your car across the country, consider the K&H Vehicle Door Protector to keep happy scratches and excited drools from damaging both backseat doors inside the vehicle.
7. Book Pet-Friendly Accommodations
Is your move going to take a few days by car? As you browse hotel or camping options, be sure the accommodations you consider are pet-friendly and accept your pet. Some locations offer pet guests to stay for free, while others have a small fee. Be sure to add this to your travel budget. The American Kennel Club shares this list of pet-friendly options in the United States.
8. Check Your Dog's Collar
As you travel, be sure your pet always has a collar on. Fit it with an ID tag clearly stating your name and cellphone number. If your pet runs off at a rest stop or in an airport, someone can quickly call you when they find them. No chip scanner needed!
Pro Tip: The best option is to have both an ID tag on the collar and a microchip to ensure your pet gets back to you.
9. Schedule a Tiring Activity
The day before or the morning of travel, tire out your pup. This might be a long walk, a playdate at the park or simply a game of fetch in the yard. This exercise will help your pet be ready to rest during the trek across the country.
10. Pack a Pet Travel Bag
As you head out, be ready to tend to your dog's daily needs. Keep the trip essentials accessible: a leash, collapsible water bowl, waste bags, food, supplements, medicines, treats, a few toys, and a folder of their vet records just in case. You want this experience to be as seamless as possible. If you can, offer meals, pills, potty breaks and playtime at approximately the same times as you did in your old home.
You've got this! With a bit of mindfulness and thoughtful planning, both you and your dog will have an amazing trip. Are you also taking a cat on your adventure? Check out "10 Tips for Moving with Cats Across the Country." Here's to experiencing new things with your best fur friend(s).