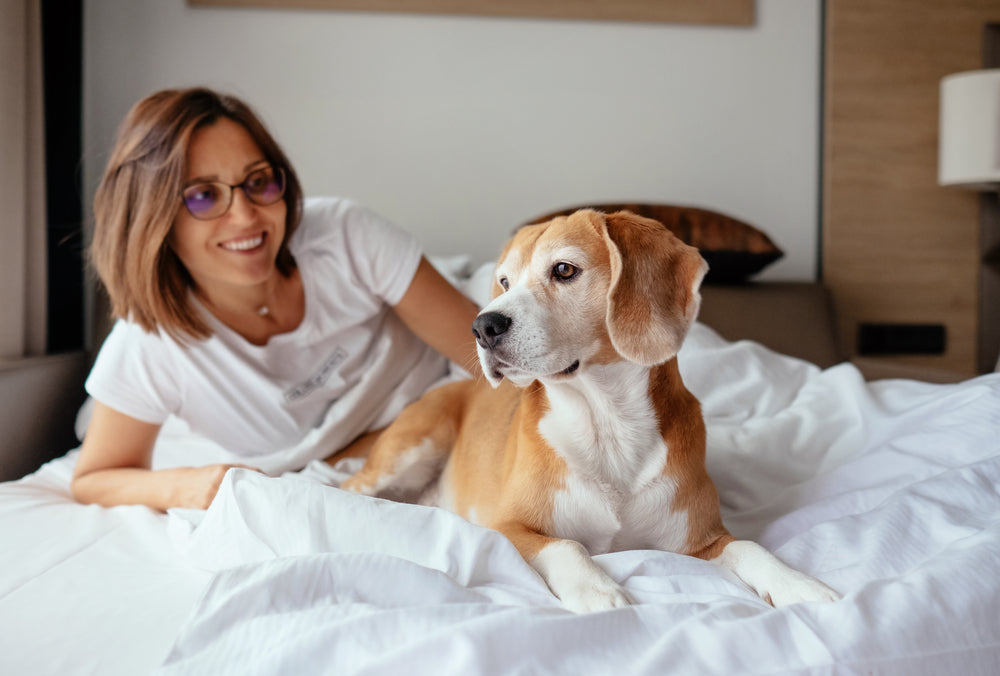 How to Stay at a Hotel or Vacation Rental Successfully with Your Dog
Whether traveling for the holidays or just going on a fun vacation with your dog, you may need to stay in a hotel or home vacation rental during your journey. While some pups love new experiences, others may feel nervous about all the new sights and smells. And you might feel a little nervous about finding a place that will be safe and welcoming to your pet. With a bit of planning before you leave, you can do a lot to make both you and your dog's hotel stay comfy, peaceful and fun.
Finding Dog-Friendly Hotels & Vacation Rentals
The first step, of course, is finding pet-friendly hotels. You can book the stay directly on your favorite hotel's website. If you prefer keeping your search to one website, many third-party reservation centers let you search specifically for ones that allow pets. Once you find a place, you'll want to contact the hotel or visit its website before booking. Review the hotel's latest rules about dog guests because they might have size or breed restrictions or even extra fees.
Home vacation rental services often provide a webpage that lets you search for pet-friendly locations in your region. Some websites might also have a filter in their general search to narrow the results to pet-friendly listings. If you find a place you like, read the house rules closely to see if there are any stipulations, such as where your dog is and isn't allowed. Before booking, contact the host to get more details about their pet policy. Some homes charge an extra fee for pets.
Pro Tip: If you're traveling with a service animal, check with the hotel or vacation rental; service animal policies differ from pet policies.
Choose a Secure Pet Travel Carrier
Your dog's travel carrier might be one of the most important investments you make before embarking on your adventures together.
If you're driving with your pup, make sure you use a carrier that attaches to your car's seat, so your pup is safely restrained. The K&H Mod Capsule Pet Carrier buckles into your car and has a rugged exterior for travel. It also has a removable door, so you can use it as a pet hideaway once you're at the hotel.
Another great travel carrier is the K&H Bucket Booster Pet Seat, available in two sizes. This securely attaches to any car seat belt and keeps your pet secure while boosting her, so she has a better view of the world around her. Once you've arrived, bring the booster into the hotel for a comfy pet bed.
If you're flying with your pup, make sure the carrier meets your airline's size requirements for carry-on luggage. Depending on the airline, the K&H Travel Safety Carrier might be a good option.
Pack for Your Dog as Carefully as You Pack for Yourself
Make sure your pup has everything he needs while you're staying at the hotel or vacation home. This means you want to pack as carefully for your four-legged friend as you do for yourself.
Pack portable food and water bowls, along with your dog's favorite treats. Bring bottled water and your dog's own food. New water or food can cause an upset stomach, which you don't want to deal with at the hotel.
Of course, you'll bring the basics too: a leash or harness, dog waste bags and scoop, doggy wipes, ID tags and season-appropriate gear, like dog booties for snow. And ideally, your pet is microchipped in case he escapes.
Pack your dog's favorite toys to keep him entertained at the hotel. You want to make sure he gets lots of exercise, so he's not barking all night. Consider interactive toys, chew toys and ones you can throw around for games of fetch.
You also want to pack some calming chews. These tasty treats are not only yummy to eat, but they also help manage your pup's stress.
Make Sure Your Pup Has a Comfy Place to Sleep
One key to a successful trip is making sure your furry bestie has a comfortable place to relax during downtime.
If you're staying at a hotel, you'll want to crate your dog sometimes. If you ever have to leave her alone for a short time (depending on the pet policies of where you're staying), you don't want her to damage the room or be surprised when housekeeping visits. Line the crate with an extra comfy pad, like the K&H Deluxe Bolster Crate Pad or the K&H Self-Warming Crate Pad.
Your pup will need another comfy bed when she's not in her crate. The K&H Air Sofa Bed Inflatable Dog Bed is a great choice because it collapses fully for travel, and you can inflate it with an air pump once you reach your destination.
Another option is the K&H Self-Warming Pet Pad, which is easy to pack because it's so thin. Your pet will love the warm, cozy comfort while she's napping at the vacation rental.
If your dog doesn't jump easily and you want her in bed with you, consider the K&H Collapsible Pet Stairs. These fold flat for easy travel and are Sherpa-lined for comfort.
A lot of preparation goes into taking vacations with your dog. But if you take the time to find a safe, pet-friendly hotel and pack all your dog's necessities, the two of you can have a lot of fun together.