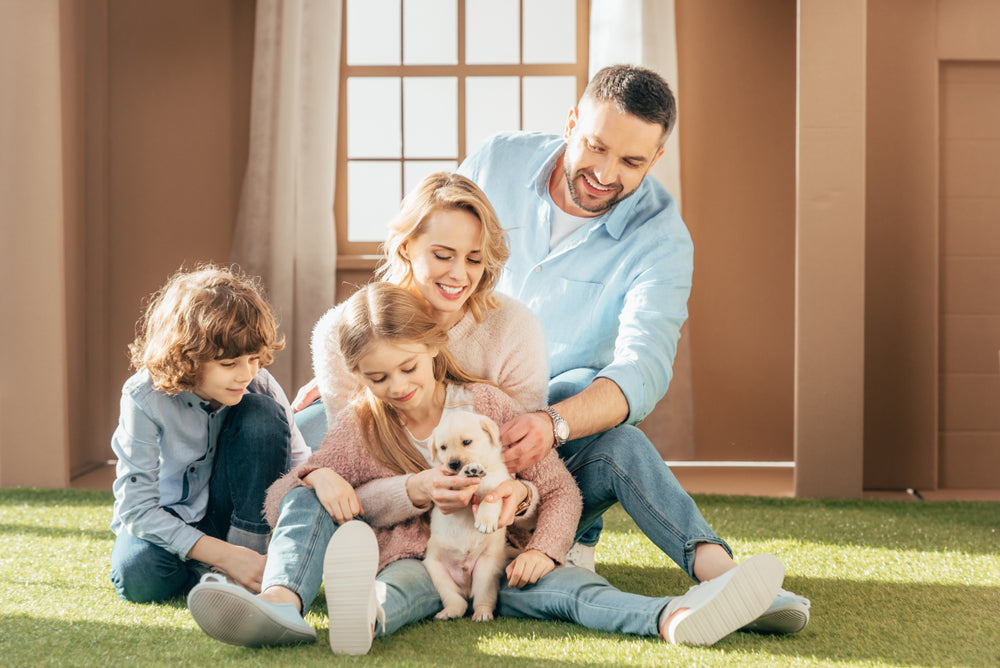 How to puppy-proof your house without sacrificing style
You're bringing home a new puppy. Congratulations! As you look around your home, you suddenly realize your DIY masterpiece needs a puppy-proofing makeover. Never fear! While puppy-proofing your home is essential to pet ownership, it doesn't mean you have to sacrifice style and design.
Reinvent and Clean Your Space with Purpose
First, you should assess your space for hidden dangers.1 One of the best ways to spot potential hazards is to get on all fours (yes, you can count this as exercise) and view your home from a puppy's perspective. Even the cleanest homes have a few items to look out for, including:
Loose cords
Batteries
Rubber bands
Jewelry
Coins
Medicine
Accessible trash cans
Unsecured cabinets
Remove any items (including cleaning supplies) that might attract and harm your curious pup. Remember, puppies love to rummage! Store potentially dangerous items in higher or secured lower cabinets. Baby-proof locks are a great option to detour a determined puppy.
If you live in an older home or decorate with antiques, make sure painted surfaces, like furniture, walls and doors, are free from dangerous toxins like lead. If you need to remove lead paint, be sure you adhere to proper protocols.
Because puppies tend to chew while teething, consider using a pet-safe spray to dissuade destructive chewing behaviors.
Add a Stylish Crate to Your Space
A crate is one of the first items you need to purchase for your new pup. Crates provide a relaxing place (a "den-like" environment) and an excellent transport device for vet visits and other adventures.
You can purchase crates that look like furniture and easily fit into your home's style. If the crate you have is more utilitarian in its aesthetic, consider disguising it under a table or inside an opened, lower cabinet. With a touch of imagination, you can easily conceal your dog's crate — with little to no carpentry skills.
Crate training doesn't happen overnight, but you can help your pup adjust by adding soothing comfort, like the K&H Mother's Heartbeat Puppy Crate Pad. The crate pad adds comfort and style with its neutral color scheme. In addition, the concealed heartbeat device can help calm your pet by imitating his mother's comforting heartbeat. This product isn't just for sleeping; it's also perfect for traveling, thunderstorms and fireworks.
To add warmth (especially during the first few months), consider the K&H Self-Warming Crate Pad. This pad also comes in colors that coordinate with various palettes. The Self-Warming Pad returns body heat to your precious pup and provides stylish comfort with its microfleece exterior. If your new puppy struggles with potty training, a quick wash is all that's required.
Energize Your Space with Pet-Friendly Plants
Adding plants is an inexpensive technique that instantly beautifies any home. However, you want to ensure all greenery within reach is dog friendly. Many plants will add style to your space without harming your pet. A few examples of dog-friendly plants include:
Boston ferns
Friendship plant
Cast iron plant
Hibiscus
Most palms (Areca, Bamboo, Ponytail)
Spider plant
While this list isn't extensive, it provides several popular options to give your living space a little pop and sophistication. If you already have plants in your home, it's a good idea to check them against the current ASPCA list of poisonous and toxic plants. You might be surprised which plants are dangerous for dogs. For example, lilies, English ivy, and tulip bulbs are highly toxic.2
Give Your Pup a Cozy Bed
Selecting a dog bed can be daunting, but it doesn't have to be! When looking for a bed, consider durability, functionality and aesthetics. The K&H Original Pet Cot is sure to match any home's decor. In addition, the Pet Cot assembles easily, so it travels well — which is excellent if you like to camp or picnic. But what if you decide to change your home's color palette? No problem! With so many color choices, you can easily switch out the cover by selecting a different K&H Original Pet Cot Cover down the road.
Protect Your Furnishings and Your Pup
Speaking of covers, you may want to cover your furniture — especially during your puppy's first few months. A quick look online will bring up several furniture cover options, but even a thick blanket will do the trick. Using covers will keep your furnishings free of puppy accidents and unwanted chew marks.
Pet gates are also essential to keep your puppy contained and away from problem areas (even mundane activities like vacuuming). In the past, pet gates resembled repurposed baby gates, but new stylish options are popping up everywhere. Today, puppy gates come in various sizes, colors, finishes and styles. With so many choices, you can easily find a gate that fits your home's vibe.
In keeping with your home's decor, select washable rugs to beautify and protect your floors. If you have cotton or synthetic rugs, they may already be machine washable (be sure to check the tags!). Remember, until your puppy has mastered potty training, she will likely have an accident or two.
Provide Clean Water with Flair
Clean water is essential for any pet, but why not provide water in style? The K&H CleanFlow Filtered Water Bowl with Reservoir provides clean water with its BPA-free sleek design. This quiet water reservoir filters 130 times per hour through charcoal, removing unwanted impurities. And its design prevents splashing and overfilling, which helps keep your pup's area nice and tidy.
Create a Trendsetting Design that Will Last
The addition of a new puppy doesn't mean your inventive sense of style has to suffer. Instead, consider ways to incorporate your puppy's needs with your impeccable flair for design. Yes, both can coexist!
1. Meyers, Harriet "Puppy-Proofing Tips for Your Home and Yard." American Kennel Club, 9 August 2019, https://www.akc.org/expert-advice/puppy-information/puppy-proofing-tips-for-your-home-and-yard/
2. Elfenbein, Hanie "Poisonous Plants for Dogs" PetMD, 12 June 2019, https://www.petmd.com/dog/emergency/poisoning-toxicity/e_dg_poisonous_plants