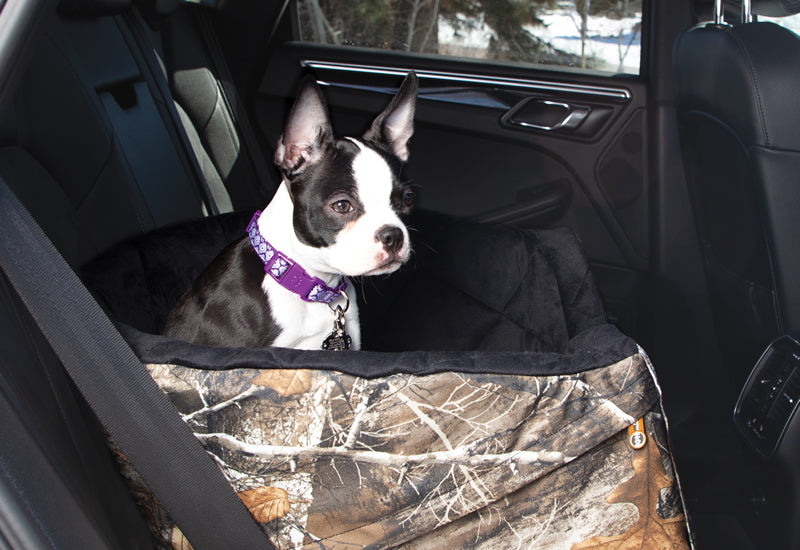 How to Travel with a Dog in a Car
Going on an adventure with your dog is one of life's great joys. Whether you're visiting family across the country or a state park a few hours away, taking a road trip with your dog can be a lot of fun. Unsure how best to travel with a dog in a car? Plan ahead. You'll want portable water and food bowls, a cargo or seat cover, and other little amenities that will make the journey a lot more fun. Below are some of the best dog car travel solutions.
Start with the Basics
First thing's first; make sure you have the basics. Bring along a leash and a collar. Make sure the collar has a rabies tag and a tag with your contact information on it. You may also want your dog microchipped in case she ever gets lost. If you do, register your microchip online with your contact information and save the microchip number in your phone.
Prepare Your Car for the Trip
Next, you'll want to prepare your car for the trip. Consider getting a carrier that attaches to your car's seat and safely restrains your dog while you're driving. This is the best way to keep your pup safe when you're on the road.1 One option is a bucket pet seat that snaps into your seatbelt buckle for small-to-medium sized dogs or a Bucket Booster® seat for small pets. For a toy breed, consider a Hangin' Bucket Booster® seat that keeps your dog safe while also elevating him so he can see out the window. If you have a little dog, another option is a Backpack Pet Carrier that buckles into the car. What's great about a backpack is that if you plan to hike anywhere after you've parked, you can carry your little pup if he gets tired.
You might also want special seat covers to help keep dog hairs out of the car's carpet, like a Travel/SUV Bed with a coordinating car seat cover. A Car Seat Saver is another option that also prevents your dog from moving into the front of the car. Remember: don't leave your dog alone in the car, especially on warm or hot days.
Prepare Your Dog for the Trip
Once you've picked your seat cover or carrier for your car, it's time to prepare your dog for your trip.2 If your dog's not used to traveling in your car or in the carrier you're using, take short journeys at first and slowly extend them. This can help your pup get acclimated to the experience. You may also want to give your pup treats or his favorite toy if he's nervous. If your dog seems to suffer from car sickness, talk with your veterinarian about your options.
You'll likely have times while traveling when you'll need to keep your dog in a crate, especially if you're visiting family or staying at a hotel. Crate train your pup ahead of time and get a comfy pad to keep in there with him.
Bring Travel Necessities and Accessories
You'll want to bring all the necessities that your pup will need on the road, whether you're camping, sleeping in a hotel, or staying with friends. This includes portable food and water bowls as well as some bottled water. If you're traveling in the summer, you might want to pack a Coolin' Bowl. And keep some treats handy for when your pup needs to know he's been a good boy.
Be sure to pack your dog's regular food rather than relying on what your family or the hotel offers. Switching food can cause an upset tummy, and you don't want your dog feeling sick, especially while you're on the road.
You'll also need poop bags, along with some paper towels and spray cleaner in case there are any unexpected accidents.
Get Comfy
Since you're planning for a great trip, why not go a little beyond the basics to ensure extra comfort for your pup? Pack an indoor-outdoor pet bed or a Coolin' Comfort bed if you're traveling in the summer. This bed can help keep your dog cool without electricity. A Cot House or Cot Canopy can give your dog much-needed shade if you're going to be spending a lot of time outdoors during your road trip.
Traveling with your dog in the car can be a lot of fun. Just prepare ahead of time and make sure you have all the essentials (and a few comfort items) packed. Once you get back home, check out these tips for getting dog hair out of your car's carpet.
PetMD, "A Guide for Traveling By Car with Your Pet." PetMD.com, 

https://www.petmd.com/dog/pet_lover/evr_multi_holiday_travel_car

.

ASPCA, "Travel Safety Tips." ASPCA.org, 

https://www.aspca.org/pet-care/general-pet-care/travel-safety-tips

.