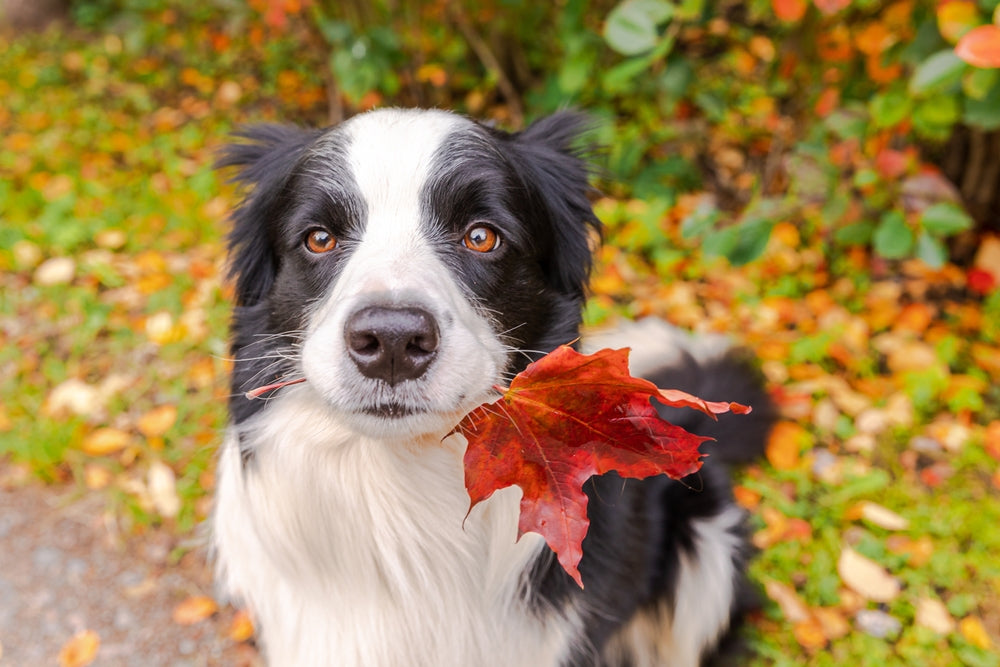 7 Top Fall Activities to Do with Your Dog
Fall is a great time to connect with your dog. With soft breezes blowing and autumn smells swirling, the fall season is an exciting time to enjoy all that nature offers. But, of course, you don't need to enjoy the outdoors alone! Your precious pup will be excited to join you on a post-summer adventure. Here are a few fall dog activities you can do with your furry BFF.
1. Trick-or-Treating
Participating in Halloween activities is ideal for collecting sweet treats while allowing your dog to strut his stuff in costume. Plus, many homes in the neighborhood will have dog treats ready and waiting. The hardest part will be choosing which costume to wear — there are endless options to purchase from a store (or online) or DIY your own.
If your Halloween weather is chilly, set out a heated water bowl for the neighborhood pups to use while everyone's going door-to-door.
And if you're not into making the neighborhood rounds, check out local festivities and enter your fluffer into a dog costume contest or two. It's a great way to spend the afternoon, and your pup may pick up a few play dates!
2. Camping
Fall is the perfect time to go camping. And cooler evenings create the perfect atmosphere for getting cozy with your furry friend.
Whether glamping in an RV or roughing it in a tent, be sure you give your pup a bed she can relax in. Consider the K&H Pet Cot House to give your pup a tent of her own, or the Self-Warming Pet Cot for those chillier nights.
3. Weekend Get-Aways
If camping's not your thing, pack up your dog for a weekend away from home. New adventures are healthy for everyone — especially your dog.2 Luckily, many hotels, cabins and rentals are now dog friendly. With so many housing options, you can easily find a vacation getaway for you and your pet. As you travel, don't forget about your pup's safety as you drive to your getaway destination. The K&H Travel Safety Carrier is a great and safe option for driving with your furry travel companion.
4. Hiking
Long walks are enchanting as the leaves change and cascade in a shower of color, covering your favorite hiking trail. There's just something pleasant and soul-reviving about hiking in fall's crisp, cool air. If your pup isn't up for a long hike, consider a doggy backpack for a long day of communing with nature. The K&H Travel Backpack offers a way for your smaller dog to join you on a day of hiking the trails.
5. Pumpkin Patches & Cider Mills
Nothing says "fall" quite like a day at the pumpkin patch or a local cider mill. Many pumpkin patches and cider mills are now dog-friendly locales. Your pup will enjoy a day in the outdoors and can offer a discerning sniff to help you pick out the best pumpkin for carving. Cider mills often offer fun fall activities your furry BFF can participate in and delicious foods (think cider donuts, cider pancakes, cider syrups) for you to enjoy. Call ahead to make sure you're following their guidelines for bringing your fur baby, so everyone has a great time.
6. Bake Fall Dog Treats
Fall is the perfect time for baking. While you're whipping up fall cookies and bars, make your dog some homemade dog treats. You can find great recipes online as well as cute dog-themed cutters to make them extra special. Once the freshly baked treats are ready, use them with a pet cot to teach your pupper how to properly "place."
7. A Fall Photoshoot
Catching memorable moments on camera is extra special during the fall season. If you're a planner, it's the ideal time to think about your upcoming Christmas card — who doesn't love beloved pets on a seasonal card?
While fall is exceptional, remember any time of year is a great time to share experiences and memories with your furry mate. After all, your pet is more than a dog — he's family!
1. WebMD. "Fitness Buddies: Exercising With Your DogSlidshow." WebMD, 19 July 2021, https://pets.webmd.com/dogs/ss/slideshow-exercising-with-your-dog
2. Sardone, Susan. "Take Your Dog on Vacation." TripSavvy, 3 June 2019, https://www.tripsavvy.com/take-your-dog-on-vacation-1863840