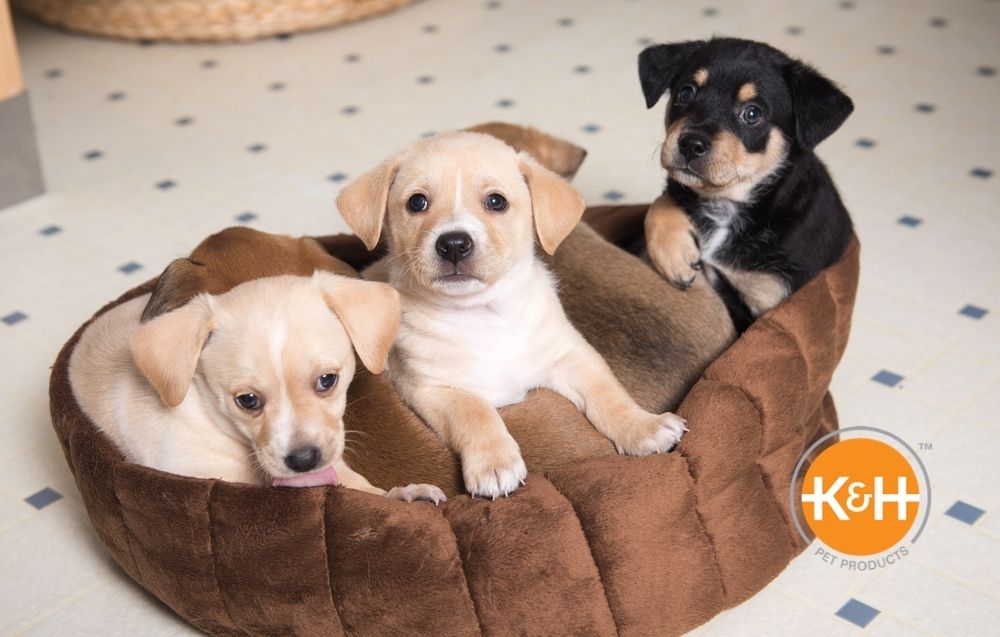 11 Ideas for Organizing & Designing a Dog Room
Have you ever considered making a dog room for your pup? A dog playroom can provide much-needed mental and physical stimulation to keep your pup entertained and out of trouble, even when you can't be there. The key is to make the dog room mentally exciting while also giving him plenty of places to play, get his heart rate up for a little exercise, and then relax. Here are some ideas for decor and toys you can add to your dog's playroom that will make it irresistible.
1. Set Up Gates or Fencing
If you have space in your home to dedicate an entire room to your dog, then that makes choosing the location for your dog playroom pretty easy. If you don't have an entire room to give him, you may need to use special pet gates to designate a section of a room just for your dog. This could be part of your living room, laundry room, or even a corner next to the stairs. The Four Paws Locking Wood Dog Gate with Mesh is a great solution for sectioning off part of a room. The Extra Wide Expandable Gate is another option.
2. Install Dog-Safe Flooring
Although getting special flooring for your pup isn't a requirement for your dog playroom, it sure can come in handy.1 Consider play mats your dog won't skid on, such as the ones you might use for children.
If you have a puppy that isn't potty trained, make sure you lay down pee pads on part of the floor. If you simply want a safe and stylish place for your dog to go potty inside the room, try the Wee-Wee Premium Patch Indoor and Outdoor Pet Potty and replacement Grass Mat. It provides dog potty grass for a variety of needs is designed to fit Wee-Wee pads seamlessly. You can customize the potty with the Premium Patch Potty System Expansion Kit.
3. Provide Lots of Traditional Toys
No dog room is complete without a lot of toys. Of course, you want to provide chew toys, so your dog has appropriate things to chew on. This is especially important for puppies that are teething, but dogs of all ages will appreciate them. Try different varieties so you can figure out which is his favorite. You might try a Power Chew Bully Stick Alternative, an Ergonomic Hold & Chew Wishbone, or a Puppy Chew Freezer Dog Bone.
Fill the room with dog toys shaped like more traditional toys but are specially designed for dogs. Choose from tennis balls, a football, or a soccer ball. Don't forget the squeak toys!
4. Give Your Dog Interactive Puzzle Toys
Your dog room should also be stocked with interactive toys that keep your pup entertained even when you can't be there in person. For example, stuffable chew toys will slowly dispense treats while your dog chews on them. You can also set up some mat puzzle toys that appeal to your dog's sniffing instinct.
5. Put in Some Pet Stairs
Pet stairs are ideal if the playroom is for an older dog that needs a little help getting to elevated places. You can get small sets of stairs at almost any online store. These are helpful if you want a human-sized chair or couch in the room that you can sit in. The pet stairs provide a way for your pup to reach you and snuggle up in your lap.
6. Set up "Dog TV"
Some dog owners go the extra mile and set up a television or a tablet that plays "dog-friendly" TV in the playroom. Consider setting up the TV or monitor to show nature shows your pup likes. There are even dog-specific channels that you can subscribe to. A smart TV with YouTube can provide endless entertainment for even the most discerning pup.
7. Fill the Room with Dog-Themed Decor
Let's be honest. If you're creating a dog playroom, then you likely want to use dog-themed decor. Sure, your dog won't recognize the theme, but you'll enjoy seeing it and showing it off to your friends. Place a floor mat at the room's entrance with cute dogs on it and hang some curtains decorated with puppies. Hang your pup's leash on a cute themed hook. It pulls double duty as it keeps the leash accessible and adds to the vibe of the space.
If you want to make the theme a little more personal, hang a framed photo with you and your dog on the wall. You could even find some cute posters with dog themes, or get extra creative and decorate a wall with painted or stenciled paw prints.
8. Make Sure You Have Some Comfy Beds
No doggy playroom would be complete without a few comfy beds set up for your dog to relax in. In the colder months, your dog might prefer a warmer bed like the Thermo-Snuggly Sleeper that plugs in or the Self-Warming Lounge Sleeper that works without electricity. For the dog that needs extra pampering, consider the Superior Orthopedic Quilt-Top Bed to support his neck, back, and hips.
The Hooded Lounge Sleeper is great for dogs that prefer a more enclosed area for sleeping. For couch lovers, you might want to get him his very own Bolster Couch. The Deluxe Bolster Crate Pad is a great way to add comfort to his crate if that's where your dog likes to hang out.
Consider getting the Mother's Heartbeat Heated Puppy Bed with Bone Pillow if you have a puppy. This is perfect for puppies transitioning to new homes. The heat and soothing heartbeat can help reduce anxiety and stress, and you can even choose the heartbeat that's right for your puppy's breed.
9. Set Out Food and Water Bowls
A water bowl is a must-have in your dog room. To make sure she gets the cleanest water, consider a K&H CleanFlow Filtered Water Bowl with Reservoir. This bowl filters your dog's water up to 130 times an hour.
You also want a food bowl in the room if you plan on feeding your pup in here. An automated feeder can ensure your dog stays on a set schedule even if you're not home.
Keep any food or treats you store in the dog room in sealed storage containers that your dog can't get into. Dress them up with cute labels that match the room's color scheme.
10. Set up a Grooming Station
If you have a large room with lots of space, you might even add a "grooming station" where you brush and comb your pup. You could even add a small sink perfectly sized to bathe your dog in.
11. Keep watch 24/7
If you can't be with your dog 24/7, you can still set up ways to interact with him even when you're gone. Set up a camera in your dog's playroom so you can check on him. You can even buy a treat dispenser that lets you talk to your dog and feed him treats whenever you want during the day.2
Designing your dog's playroom is the perfect opportunity for your creativity to shine. From toys to beds and everything in between, creating a mentally stimulating haven for your pup will benefit both of you.
1. Lotz, Kristina. "Create an Indoor Playroom for Your Dog." American Kennel Club, 17 January 2019, https://www.akc.org/expert-advice/home-living/creating-an-indoor-dog-playroom/.
2. Matthews, Kayla, Adrienne So, and Louryn Strampe. "Keeping an Eye on Fido from Afar with These Pet Cameras." Wired, 27 February 2020, https://www.wired.com/story/best-pet-cameras/.