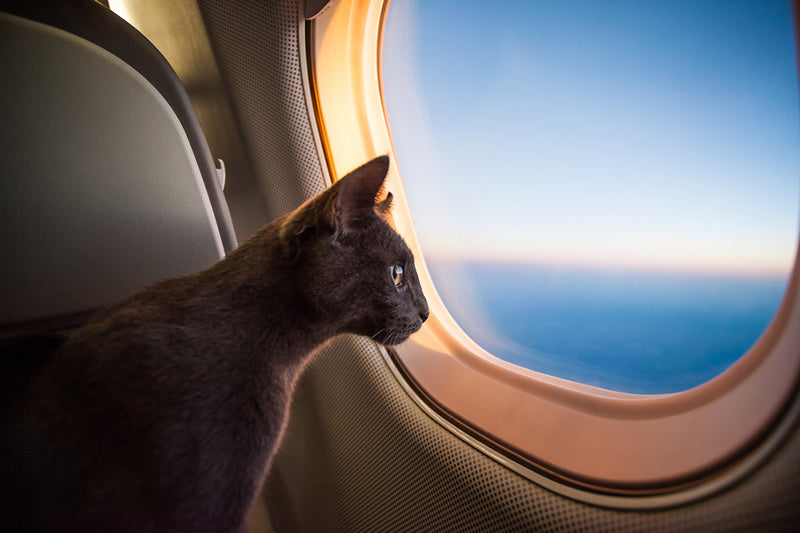 How to Travel with a Cat on a Plane
You might feel a little nervous when you're planning on traveling with a cat on a plane. How do you keep your sweet little furball safe? Will he feel scared? Do you take him in the cabin with you? There's a lot to consider when you're flying somewhere with your cat. As long as you plan ahead, pack travel supplies like bowls and cat food, and make sure you meet all your airline's requirements, you and your kitty will be just fine.
Cabin vs. Cargo
When flying with your cat, you'll either bring your cat on the plane with you or you'll check-in your pet to travel in the plane's cargo area. Your cat will typically be happier and safer if she can fly in the cabin with you. Try to book as early as possible, since you'll need to keep your cat's carrier under a seat in front of you. Look for direct flights, so you can limit your cat's time in the airport and make the trip as easy as possible.
If you have no choice and need to let your cat fly in the plane's cargo hold, try to travel on the same flight as your cat and avoid plane transfers if possible. Try not to travel when it's too hot or cold.
Either way, your cat's weight and carrier size will need to fit the airline's exact specifications. The K&H Lookout Pet Carrier is potentially a good option. The size small carrier meets some airline policy requirements.
Your cat might also need to meet certain immunization requirements before flying. Check with your airline on the specific details.
Airline Requirements Can Vary
Some airlines only allow a limited number of in-cabin pets per flight, so make sure there's still room before booking. You also want to ask about pre-boarding since boarding early can make things a lot easier when flying with cats.1
Each airline has its own policies regarding cats and travel. You'll want to check with your airline about any fees, restrictions, or unique requirements.
For example, American Airlines does not allow any "brachycephalic" cats to travel on their planes.2 These are cats with broad, shorter skulls, like Burmese, Persian, Himalayan, or certain exotic shorthair cats. Cats must also be at least eight weeks old.
United Airlines, on the other hand, requires that cats be at least 16 weeks old.3 Your pet must have had his rabies vaccination more than 30 days before the flight, and in-cabin trips aren't allowed on flights to Hawaii or certain international flights.
Talk with Your Vet and Get Your Paperwork
Get a vet checkup and ask if your cat's healthy enough to fly. Flying might not be a good idea for cats with shorter faces and nasal passages, like Persians.4 Your airline will likely also need vaccination papers and other documentation from your veterinarian. If your cat isn't microchipped, now is a good time.
Travel Supplies
When preparing to fly with your cat, have all your paperwork ready, and make sure you have a quick-release collar, tags with vaccination and contact information, and a harness. You should also affix a tag to the carrier itself with your contact information.
If your cat needs to fly in the cargo hold, keep a photo of your cat and the carrier with you, just in case you two get separated.
You might also want to purchase a puppy pad for the bottom of the carrier, in case she has an accident. Consider putting the puppy pad over a thicker, comfier pad for traveling in style.
Bring extra pads, some food, medicine (if any), travel bowls, and travel litter. Pack a cat bed so your furball can snuggle down at your destination. You can't carry drinks through security, so bring money to buy a water bottle at the airport. If there's a layover or delay, she might need to sip on some water while you're waiting.
If you're worried about your cat feeling stressed, consider a Comfort Zone Calming Collar. This drug-free solution mimics a cat's natural calming pheromones.
Carrier Training
Make sure your cat's carrier fits the airline's requirements. If you need to get a new carrier, give your cat plenty of time to get used to it before the flight. Keep the carrier in your home with your cat's favorite blanket inside and a few treats. You want her to make positive associations with the carrier.
Harness Training and Security Screening
Pet carriers need to pass through X-ray security screening. This means you'll have to take your cat out of the carrier.5 Find a harness that fits your cat snugly so he won't escape when you take him out of the carrier.
Give your cat a few trial runs with a harness at home. The first time your cat wears a harness, he might crouch low to the ground and barely move. It could take a few tries before he gets used to the feeling.
The Day of the Flight
Try not to feed your cat for a few hours before the trip, just in case she gets motion sickness. Pack all your supplies the night before, so neither of you feels rushed. You might want to bring a light blanket to drape over part of the carrier so she's less exposed to unfamiliar sights and sounds.
When the flight's over, give her lots of pets, treats, and encouragement. When you get to your destination, give her some water and food, along with access to litter.
Flying can be stressful, but if you plan ahead, you and your cat will feel a lot better on the big day. Remember: once you reach your destination, your cat might hide for a bit until she gets used to the new surroundings. It's nothing to worry about. Just be patient and ready with lots of love, and she'll be acclimated before you know it.
Renfro, Kim. "What It's Really Like to Travel with Your Cats Across the Country on an Airplane." Insider, 6 September 2018, 

https://www.insider.com/flying-with-cats-plane-photos-2018-9.

American Airlines. "Pets." AA.com, 

https://www.aa.com/i18n/travel-info/special-assistance/pets.jsp

.

United Airlines. "In-Cabin Pets." United.com, 

https://www.united.com/ual/en/us/fly/travel/animals/in-cabin.html

.

Humane Society. "Travel Safely with Your Pet by Car, Airplane, Ship or Train." HumaneSociety.org, 

https://www.humanesociety.org/resources/travel-safely-your-pet-car-airplane-ship-or-train

.

Hunter, Tammy. "Flying with Your Cat." VCA, 

https://vcahospitals.com/know-your-pet/flying-with-your-cat.