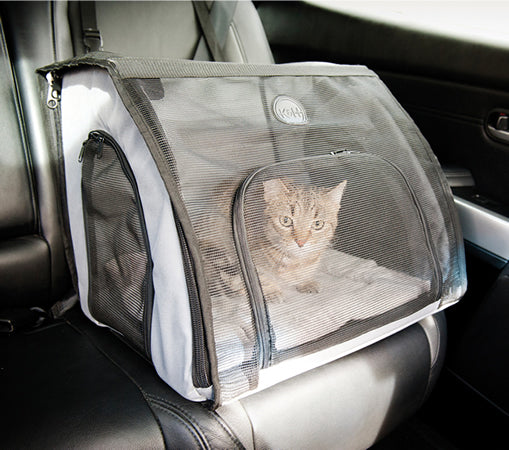 How to Travel with a Cat in a Car
Taking a road trip with your cat can be a cherished memory that lasts a lifetime, just as long as you plan ahead. If you're wondering how to travel with a cat in a car, it's not as hard as you might think. It just involves a little preparation and a sense of adventure. The key is to take some test trips first, help your cat get used to his carrier, and provide lots of encouragement and love.
Find a Good Carrier
Your first step is to find a good car carrier for your kitty. While you're traveling on the road, look for a Travel Safety Carrier that secures to the seat and keeps your cat from moving around while you drive. Cats can sometimes get spooked when you're driving and might try to hide near your feet, getting in the way of your brakes. That's why it's a good idea to keep your cat safe and secure while you're on the move.
You might consider a Shoulder Sling Pet Carrier or Backpack Pet Carrier. You can wear it when you're out and about, but it also buckles into your car while you're driving. Once you pick the "purrrfect" carrier, give your cat a chance to get used to it. Set up the carrier in your home with a favorite blanket and some treats. Over time, your cat will warm up to the carrier. You might even catch your kitty taking little cat naps in there.
Another great option is the Mod Capsule. This can be both a car carrier and a bed. Just run a seatbelt through the strap on the back to buckle it in and keep your cat safe on the road. Remove the zippered door once you're at your destination and it's a comfy bed. It even has a removable pillow for easy cleaning.
Practice Makes Perfect
If you're going on a long road trip, prepare your cat for the journey. Put your cat in the carrier, buckle her up, and just drive around the block. Give her some treats to create a happy association with the drive and the carrier. Then take slightly longer drives and observe how your cat reacts. Does she meow a lot? Does she get carsick?
If your cat gets carsick, a simple solution is to avoid feeding her for a few hours before hitting the road. She might also slowly adjust to the drives and get less sick over time.
If she seems really anxious or gets extra vocal, try putting a light blanket over parts of the carrier so she experiences fewer strange sights and sounds. Turn down your music or play a podcast or a particular tune that seems to calm her. Talk to her reassuringly. Put a towel or a toy with her scent inside her carrier so she has familiar smells nearby.
You might also try putting a Comfort Zone Calming Collar on her. This drug-free collar mimics a cat's pheromones and can help pets feel safe and relaxed.
More Safety Tips
In addition to safely securing your kitty while you're driving, here are a few more safety precautions to consider. Make sure your cat is microchipped and up-to-date on his vaccinations. You should register his microchip online with your contact information.
Get a harness with a leash in case you need to take your cat out of the carrier while you're traveling. But give your kitty some time to get used to the harness first. Do a trial run. He may crouch and crawl on the ground when he first wears it, but over time he'll feel more confident.
Remember to never take your cat out of the carrier unless your car doors are closed or you have a firm grip on a leash attached to a snug harness.1 Cats are sneaky and can dash out of a car door or window before you realize what's happening.
Finally, don't leave your cat alone in your car. Cars can get dangerously cold or hot very fast, so you don't want to take any risks.
Basics for Your Travel Pack
When you're going on a road trip together, you'll want to pack some basics for your cat. Bring bowls for food and water, along with some bottled water. Bring a portable litter tray, a small scoop, poop bags, and a small amount of litter if you're going on a longer trip. If your cat tends to pee or poop in the car, line the carrier with an absorbent puppy pad.
Be sure to pack the type of food your cat already eats at home. Cats can get an upset stomach if you switch their food, and you don't want your sweet little furball feeling sick when you're on the road or visiting friends.
If your cat will sometimes stay in a crate at your destination, get a thick crate pad so she's more comfortable. Or maybe pack a comfy bed or Sherpa-lined sack for her to sleep in, plus a blanket from home so she has some familiar scents. The Amazin' Kitty Sack is another option that helps trap dander, which is an added benefit when traveling.
Consider bringing a bed that attaches to a window for use at the hotel or home where you're staying. This gives your kitty a chance to check out the views for herself. Don't forget to bring treats and interactive toys, plus a camera so you can take lots of photos.
Traveling with your cat in your car can be a lot of fun, as long as you prepare him for the journey. If you follow these safety tips, you and your cat can have a fun road trip and make a lot of great memories.
Taking a trip with your cat? Snap a pic and hashtag #purrfectRoadTrip on Instagram, make sure you tag @khpet. We'd love to see your adventures!