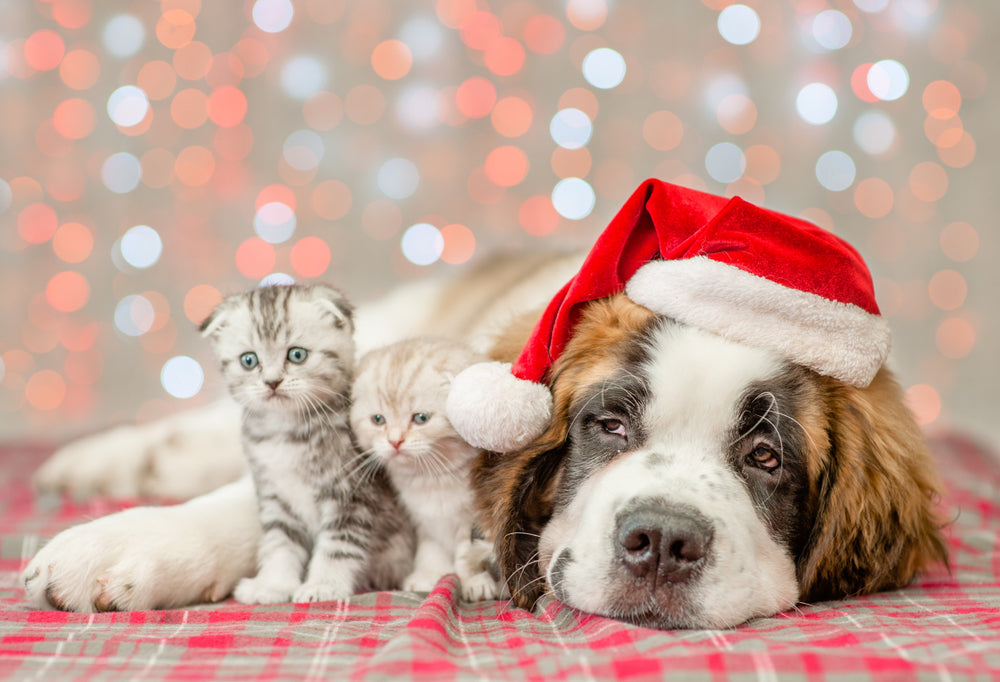 7 Ways to Help Animal Shelters This Holiday Season
Local animal shelters provide wonderful services for dogs, cats and other animals in our communities. But it's a big job to house, care for and find reliable adoptive "parents" for the animals, and much of the work goes on behind the scenes. With the holiday season right around the corner, you may be interested in volunteering to help your local animal shelter. We've gathered 7 ideas for how you can help a shelter this holiday season.
1. Volunteer with the animals.
There is no shortage of work at an animal shelter! If you love working with animals and aren't afraid of getting your hands dirty, you could volunteer to help with the basics, like feeding, watering, walking, grooming or crate cleanup.1 You could even help with maintenance work inside the shelter building and grounds. Bonus — you may get to play with the animals, too!
2. Participate in an event.
Why not volunteer at a fundraising event? Silent auctions and rummage sales are perennially popular ways to raise awareness for animals in need while raising some much-needed cash for the shelter at the same time. Perhaps you can coordinate a Christmas-themed event that can benefit from holiday-season generosity, or maybe it's time for a festive New Year's-themed event with a party flair.
3. Adopt a pet.
It might be so obvious that you overlook it, but you can do the animal shelter a great service by actually adopting or fostering a pet. Not only does this offer a lonely pet the chance for a new home, but it also frees up room and resources at the shelter. Odds are good that you may bring home a senior pet, so you'll want to prep for those specific needs. And while you should never jump into pet ownership without a solid plan, the holiday spirit might just convince you to bring home a new pet.
4. Provide administrative support.
Not all chores at an animal shelter revolve around cleaning crates or walking dogs — a substantial amount of administrative work needs to be done. If you have a knack for this type of work, think about helping the animal shelter in a big way by scheduling appointments with potential adopters, managing email correspondence or even assisting with bookkeeping. Offering these services might be helpful any time of year, but volunteering around the holidays will free up other volunteers to tackle last-minute holiday preparations.
5. Offer your design skills.
Animal shelters have to promote their services, events and adoptable pets, which translates into printed flyers, newsletters, email shout-outs and a lot of social media. If you have a flair for fonts and design, your local shelter just might appreciate your help with designing and creating these types of advertisements.
6. Share your photography.
Handy with a camera? Offering your photography talents to a local animal shelter can go a long way toward helping animals get adopted more quickly.2 The reason? Nice photos showcasing happy and healthy pets can be used by the animal shelter's blog or social media channels to promote pets in need of adoption.
It's no secret that great photos can help animals get adopted faster than those with so-so images (or none at all). You don't have to be an expert photographer, but if you have a suitable camera or a newer smartphone, a flair for animal portraiture and the willingness to get down on the ground and shoot some awesome pet photos, you can provide a much-needed service for animals searching for new families.
Holiday Idea: Offer Christmas-themed mini pet portrait sessions for the public, with the proceeds going to the shelter.
7. Don't wait. Donate!
While you should never overlook the obvious option to donate your dollars (a must-have on any animal shelter's Christmas wish list), there are plenty of other ways to donate this holiday season. Consider donating useful pet supplies that shelters may find helpful — things like unopened dry or canned pet food, fun toys, blankets, crates or basic pet supplies.
Cats, in particular, might enjoy a self-warming cat bed like a K&H Self-Warming Hut or a K&H Self-Warming Pet Pad. Not only do these beds return a cat's body heat back to them, but they are easy to clean.
For dogs, a pet cot like the K&H Original Pet Cot makes a great donation and a comfy place for pets to hang out. (And it's easy to keep clean!) To make it warmer in winter, you might add a K&H Self-Warming Pet Cot Cover.
You might also consider donating items like cleaning supplies, paper towels, soaps, sanitizers, etc. Animal shelters will likely have a wish list to guide you and to channel your donations to the items the shelter needs most. (Handy!)
Giving back to an animal shelter is a wonderful gift this holiday season. But it's not just the animals and the community that benefits from your volunteering efforts. One of the biggest payoffs will be how good you feel when working hard at something worthwhile.
1. Davis, Rebecca. Marquette University. "Understanding Volunteerism in an Animal Shelter Environment: Improving Volunteer Retention." Fall 2013. https://epublications.marquette.edu/cps_professional/54/
2. Adobe Communications Team. "Animal adoption photography guide: Crafting images to help pets find their forever homes." October 2021. https://blog.adobe.com/en/publish/2021/10/19/animal-adoption-photography-guide-crafting-images-to-help-pets-find-their-forever-homes